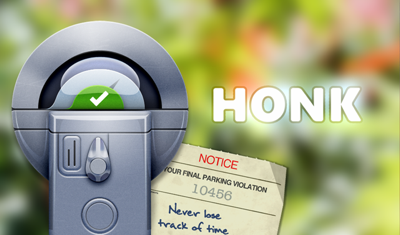 One of the
Ten Essential Navigation Apps
in the US App Store.
App of the Week
in the UK App Store. Featured
New and Noteworthy, What's Hot
as well as
Staff's Favorites
sections and ranked in 70 App stores around the world.
First, find what the USA Today had to say about it….


Reviews from the press:


New York Times
[Gadgetwise : 1-11-13]
"Because of that, my dad said he would probably use the apps with the most intuitive interface and that included photo and note-taking abilities and a parking meter alarm, like Honk and Sally Park."
Wired
One of the Essential Apps in Wired magazine's Annual Apps Guide Issue [2011]
Gizmodo
[App of the Day, 4-19-11]
"Honk's the Swiss Army Knife parking app...It not only helps you find your car but helps you do so before you risk getting a parking ticket, and it looks great through and through... I can't really think of how it could get better without paying my outstanding parking tickets for me."
AppAdvice
First choice in Essential Apps:Car Find Category
"[Honk] is a great app. Honk is simple and elegant and includes little things like updating your app icon with remaining time on your meter. Beyond the basic photo capture capability, the app will let you annotate on top of that photo to truly capture where you are. ... no other app is as simple, reliable and elegant to use."
Cult of Mac
[Must-Have App, 5 out of 5 stars]
"Unfortunately, I hadn't heard of Honk until it was featured as Apple's 'App of the Week' in the UK App Store this week, however, I wish I had. It's designed to be quick and easy to use and it really works – just open up the app whenever you park and set yourself a time limit in seconds. Honk is a stroke of simple genius, and it's not often you come across a one dollar app that could potentially save you a small fortune."
148Apps
[4.6 out 5 stars]
"... For the 99 cent asking price there's really no excuse not to buy honk, as it'll save you a ton of money in future tickets. Even if you don't use meters, Honk can easily double as a parking space finder with its handy GPS and picture functions. Just go pick it up, you won't regret it."
MacStories.net
"these map and sketch features alone refilled my like-meter: they definitely made the app for me. For a dollar in the App Store, you may save yourself $50 or more in parking fines. You may even become the family hero as you can finally remember where you parked. Honk away my fellow MacStories readers and parking meters beware!"
Macgasm
"Honk uses icon badges in a genius way. ... If you find yourself out and about during the day, and often paying parking meters as you conduct your business around town, Honk is for you. It's already saved my backside twice."
Pocket-lint.com
[Best Apps News]
"
Out of all the damned nuisances that life throws at us, parking tickets must be one of the worst. ... However, thankfully there's now a way around it, as you can ensure that you're never late back to your vehicle as a quick download of this recently updated app will show. Yes, it's Honk..."

Appolicious.com
[Fresh Apps List]
"...Parking tickets -- they're one of the worst kinds of expense, because they're usually totally avoidable. The best way to avoid the fines is with Honk, which reminds you of when you've got a parking meter expiring and where you parked. The app also makes it easy to keep track of how much time your meter has left, by displaying the timer over its app icon, rather than requiring the app to be open."
AppMyWorld
"I wish I had this app on my phone this past weekend. Hopefully you'll never get lost like me in a parking garage! "
Comments from satisfied customers on iTunes App Store around the world:
by TweakTKE on Friday, March 15 2013 version 1.60 (USA)
5 stars all the way. Simple, easy, functional. Pay no mind to these wazoos clicking any less than 5 stars. It's a great little app which gets first page privileges on my phone. Any less than a stellar ratings must be coming from someone living in rural Montana without parking time limits.
by Dan Philpott on Thursday, February 20 2013 version 1.60 (Canada)
I used to get about $200 worth of tickets a month. Many meetings, both planned and unplanned. Now I am either warned of time running out incrementally or I do quick glance before meeting to determine if I need to feed before meeting or if can wait. Awesome!
by by Mohammed Kathrada on Wednesday, February 19 2013 version 1.60 (UK)
Top app, works every time is I'm a forgettable individual who always forget where I park my car. Loving it
by Duncan Tolmie on Tuesday, February 18 2013 version 1.60 (UK)
App works perfectly, despite some reviewers complaining that the alarm sound doesn't work and the meter can't be set for more than two hours. Both the sound and the duration can be tweaked in the device's settings, which takes seconds to complete. I'm delighted with the app, and can highly recommend it. Well worth 69p!
by ChristopherRobin1950 on Thursday, December 27 2012 version 1.5.0 (UK)
Really works well and is fun!
by UpNorth49770 on Thursday, December 13 2012 version 1.5.0 (USA)
Works great for its intended purpose and is very handy for other uses. I use it at home to alert me when my laundry is done. I no longer leave clothes in the washer or dryer for hours.
by D.B.Walker on Friday, July 13 2012 version 1.5.0 (Canada)
This is the best app ever. I use it all, ALL the time and it has saved me lots of money. Believe me the best money you'll ever spent and it is the easiest app to use. Just don't forget to check the volume on your device.
by AltSearchEngines on Tuesday, August 14 2012 version 1.5.0 (USA)
I don't even own a car! A meter app that looks and works like a meter - every app designer should be made to watch the demo.
by Nicholas GIBSON on Monday, June 04 2012 version 1.5.0 (GB)
Does what it says on the tin and amusing too. One of the apps I still use months after downloading it
by FreeSpirrit on Monday, March 26 2012 version 1.5.0 (USA)
This app has saved me so many tickets over the last couple of months. It is a nice reminder when you become forgetful of the time. Thank you!!!
by Iris Perez on Thursday, January 19 2012 version 1.5.0 (USA)
Always works great, no bugs. And not to mention that it has saved me a ton of money on parking tickets. Can't live without it.
by Michael Grills on Friday, September 16 2011 version 1.5.0 (Canada)
I love the interface. I'm sick of the individual wheel interface of most alarm apps that make you go thru the hour and minutes before you set the alarm. Does anyone know of a regular alarm app that has a similar interface as Honk does?
by Wiseupsuker on Tuesday, September 27 2011 version 1.5.0 (GB)
Wicked app saves me getting a ticket 3-4 times a day nice one
by Jonathan Martin on Wednesday, August 17 2011 version 1.5.0 (GB)
This is one of those great apps that actually lives up to what you expected. Great graphics and so easy to use...
by Peter Wright on Tuesday, August 16 2011 version 1.5.0 (GB)
Such a simple yet great app
by Gary Meacher on Wednesday, July 27 2011 version 1.1.0 (USA)
Wouldn't change a thing.
by Toybrownie on Thursday, July 07 2011 version 1.1.0 (USA)
Really works went to a U2 concert at Rose Bowl and with 90.000 people you have a hard time finding your car. But with this app I found it fast.
by Joseph Shalom on Wednesday, June 15 2011 version 1.1.0 (USA)
Great app especially in NYC
by Alex Davit on Monday, June 13 2011 version 1.1.0 (USA)
This app is saving my bank account in Philly!!!
by USA Gooner on Saturday, May 21 2011 version 1.1.0 (USA)
A must-have for anyone
by philorock on Friday, May 06 2011 version 1.1.0 (USA)
Don't walk - run to buy this wonderful app. It'll save you the trouble of running to the meter to throw in another quarter. I think the alarm should be louder, if possible. GREAT interface. simple, elegant solution.
by 241tesco on Monday, July 25 2011 version 1.1.0 (UK)
Good fun to use and actually useful
by Mrmrv on Saturday, May 21 2011 version 1.1.0 (UK)
We're honking! Great app, easy to use and set up. Works every time for me.
by Mike Hawke on Saturday, March 05 2011 version 1.0.1 (UK)
All the functionality works brilliantly and is easy to use. My favourite parking app. 5 stars.
by Christian Regalado on Friday, April 15 2011 version 1.1.0 (Canada)
Love the app... I've been using it almost everyday now, and it has saved me from plenty of tickets.
by Kleehv on Saturday, February 26 2011 version 1.0.1 (Canada)
I used to have a chronic parking ticket problem and when my friends ask how I got it under control I just tell them "There was an app for that."
by Hazardnz on Sunday, March 13 2011 version 1.0.1 (New Zealand)
I've tried various parking timer apps to try and find a good one. Ended up going back to the clock timer until I found this. Honk is great, it's simple to use, heaps of features and the way it shows time remaining on the home screen is brilliant! Easily the best parking timer out there. You won't be disappointed with it!
by Stianen on Thursday, March 17 2011 version 1.0.1 (Norway)
Works very well. Good settings and features. Will be used.
by UrsJenni on Thursday, March 10 2011 version 1.0.1 (Switzerland)
Simple and simply good. Very easy to use and intuitive and visually attractive. Functioning properly.